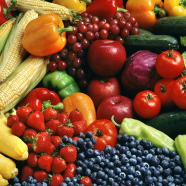 Jun

13
Tags
Related Posts
Share This
Healthy Life. Happy Food.
Soo's New Diet in Montreal
I am new in town to Montreal, Canada. Because I am not sure how long I am going to be here, I did not move my kitchen from LA. Basically I have nothing to cook with. It was challenging for me in the beginning. I was continuously hungry and my tummy was not tolerant with outside food. However, I still want to eat well and enjoy the food that the locals in Montreal have to offer. I did some research and my new eating method seems to be working. It is very simple, efficient and free from animal product!
My breakfast
Home Made Muesli:  Oats, Nuts, Seeds and Fresh Fruits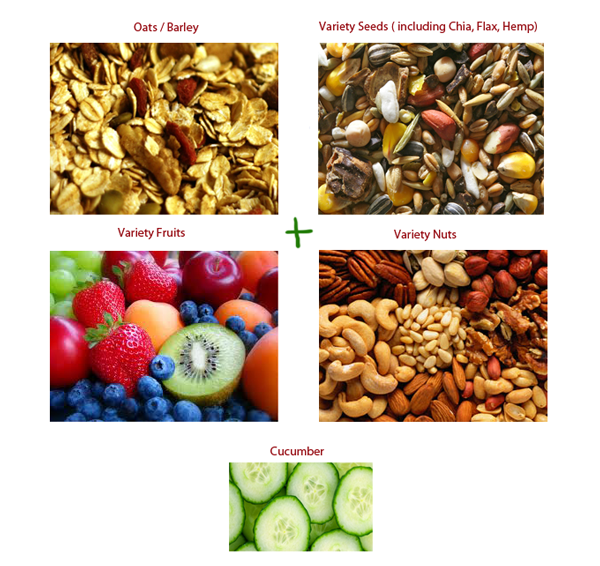 It is better and cheaper to make you own:
Choose your preferred muesli  base or mix both: Oats / Barley
Variety of Nuts: Raw Almond, Raw walnuts or any other of your favorite nuts. But get them in raw. ( I mix at least 5 different kinds of nuts)
Variety of Seeds:

Chia, Flax (mandatory), Hemp  ( 1-2 tea spoons each of them) , Sunflower, Pumpkin etc. ( Mix at least 4 different kinds of seeds)

Variety of  Fresh Fruit: ( 3 different kinds), Dried fruit ( not too much because it would be too sweet)
Optional:

Cucumber: I sometimes love to mix it in my bowl. Yummy and surprisingly it goes well with it. Cucumber is a veggie that you can eat with fruit.

Finally, non-sweetened Almond Milk ( I prefer) or Soy milk
I eat most of my fruits in the morning only. I try to not mix my veggies and fruits except cucumber, tomato, sprouts. You will get fermentation if you mix most fruits and most veggies because fruits are much faster to digest then veggies.
Veggies + Grains = OK
Fruit + Grains = OK
Veggies + Fruit = Fermentation = Not OK
Tip: Don't forget to change your fruit, seeds and nuts every week. Variety! Variety!
My lunch box
 Grains+Legumes+Veggies+Seeds+Nuts
How to prepare Grains and Legumes?

I cook 3 days worth of my mixed Grains+Legumes to save time. It takes a bit of time to cook.  Pre-wash & soak them in water for 1 night before you cook. It gets softer and easier to eat.  As soon as  it is boiling, lower ( 3) the heat and leave it for around 30 mins until all the water is gone. Then it should be ready to serve. Keep them in the refrigerator. I mix them into my salad or put them in veggie dishes. Brown Rice (mandatory), Buckwheat, Variety of Lentils (mandatory), Variety of beans (mandatory) and Quinoa etc.  I mix at least 10 different kinds of Grains and Legumes.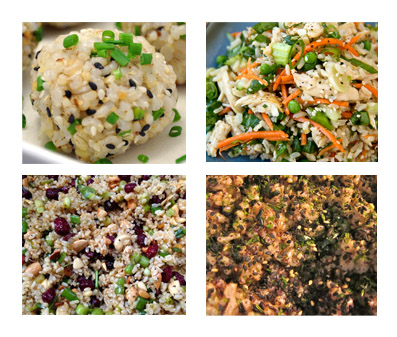 Variety of rice dishes
Tip: Quinoa cooks fast so add it before 10 min when the others things are done.
Plus
Variety of  Veggies
Mixed Salad + Gold and Black sesame \ Sun flower\Pumpkin \ Chia\ Flax\Hemp\ Seeds etc + my home made dressing
Some say eating salad makes you hungry.  Remember there are a lot of different kinds of veggies. Sweet Potato, Pumpkin, Yam, Taro, Beet, White radish, Kale, sprout etc.  Look around and get to know the veggies you never tried.
Old style mustard + Fresh lemon + Fresh apple juice + Garlic + Some herbs ( dill, basil, thyme)  + Black Papers + Virgin extra Olive Oil.
Tip: For Pumpkins, Yam or sweet potato – bake a lot them then  keep them in the refrigerator.  It is easy and fast to add to your salad or your veggies dishes when you need.
Seaweed / Cucumber salad + Gold and black sesame seeds + my dressing
Eating seaweed could be new for many people. There are many kinds of seaweed. Dry or wet. Start with dried roasted seaweed and make a wrap with your pre-made grains/beans or veggies.
Mixed variety veggies lightly pan fried

Cook around 5 mins on a hot stove.  Use a variety of colored veggies and don't cook them too long. This way you can enjoy the taste of individual veggies and your teeth will be happy to chomp on them. Don't forget to add your pre-baked  pumpkin or sweet potato.  Try a variety of Tofu too. Don't forget to add some garlic /ginger.   
 Tip: To get more taste out of your food, chew it more times. It tastes better and it is easier to digest!
My favorite sauce: Garlic + Ginger +spring onion + soy sauce ( half t-spoon) + Multi colored Sesame seeds + Sesame oil. Optional add raw honey ( half t-spoon) + old style mustard + fresh lemon + fresh apple  juice.
For the sesame oil : Add it after when it is done cooking. Make sure your food is colorful.  This means you should use more colors  than just green and red!
Tip: How I choose Veggies? Organic Veggies or from the farmers market would be best for taste and nutrition . Make sure you have all colored veggies on your plate. You are good to cook.
Remember good ingredient require less time to cook. They are  delicious as they are! Your cucumber should taste like melon and your tomato will taste like strawberry.
My Dinner
Grains+Legumes+Veggies+Seeds+Nuts
Small Dinner = Grain ( small or skip depend on how hungry I am) + Veggie + Seeds+ Nuts + Something NEW and CREATIVE by your own idea!
I like to eat seaweed soup or miso soup  or something else warm and simple.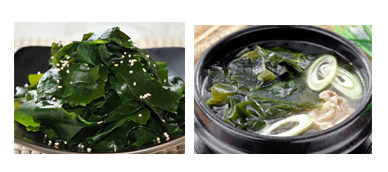 This diet is very simple yet works for my traveling life style ( I came to Montreal with 2 bags and my computer). My body feels happy and satisfied with this diet.  I feel like I am getting good nutrition. The best part is that I miss home less because I am full.
If you have a blender, veggies and nuts can used in very creative ways. Try to expand your imagination of veggies, grains/beans and nuts. They could turn into something totally different. For instance, it can be a milk free butter, egg free pate or meat free beef or chicken etc.
It is
your choice
what you eat but let us remember
"Healthy Life, Happy food!"
Can I say something more? 


Start to read the ingredients of the products.
If there are too many words that you don't know then you should reconsider getting them. We know a lot about our friends, family and favorite hobbies and I think it is just as important to learn about your own body. Maybe it is time to develop an interest in your own body rather than depending on doctors and hospitals.  They can help us but at the end of a day it is your responsibility to know what to do. The good news is that we don't need to do much to keep it healthy as long as you eat good & healthy food. This can be very challenging these days because we are getting less food from farms and instead getting it from factories. So start to read ingredients when you buy food. At least you should know what you are eating.

Start questioning the food you are eating.
There are a lot of surprises waiting for you once you open your eyes and ears.

Start to get to know your inside body.
You will be amazed and respect what you have in your body. Eating the right things is the least you can do to give your complex body the  proper fuel it needs to operate.
 Thank you for reading.